Multivitamin Medicines For PCD Pharma Franchise – Multivitamins Medicines are necessary for meeting daily micronutrient requirements. The insufficient nutrients from regular food, stress, poor eating, etc. are leading to nutrition deficiencies and internal body tissues such as weak bones, muscles, joints, ligaments, brain, etc. To help people met the daily micronutrients requirements our firm Abiba Pharmacia started delivering the Best Quality Multivitamin Medicines for PCD Pharma Franchise. We are an ISO 9001:2008 certified company that is engaged in the manufacturing, trading, and delivering an exclusive assortment of top-quality Multivitamin Medicines. Our Multivitamin Range is lab tested and comes in the form of Capsules, Injections, Syrups, Tablets, and much more.
Our vision to deliver the best quality medication without any quality compromise is what makes us the best in the business. We possess GMP-WHO-approved state-of-the-art infrastructure that contains in-built quality testing units, packaging arrangements, powerhouses, drainage systems, dispatch units, storage units, and much more. By providing the Top PCD Pharma Franchise for Multivitamin Medicines, we are providing an amazing opportunity to the business seekers, newcomers, pharma experts, medical representatives. With the best player in the industry, Abiba Pharmacia you can get a highly demanded Multivitamin range, free promotional support, timely delivery, monopoly rights, and much more.
Abiba Pharmacia guarantees full transparency, ethical business and we will make sure to provide you best franchise benefits. If you are interested, then call us at +91 8699402121 or write us an email at sales@abibapharmacia.com to know more.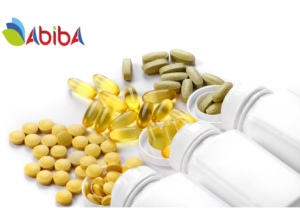 Scope of Working With Multivitamin Medicines
It does not matter how much you eat or how many calories you consume, you will always end up with nutrition deficiency. To counter such deficiencies, multivitamin medicines are required. Multivitamins are crucial for overall internal wellbeing. It is a good source of essential vitamins & mineral that promotes good internal health, organ health and enhance stamina as well. In contact with the business, dealing with Multivitamin Medicines will bring you a fortune. As per the report, the demand for multivitamin medicines has raised much more in the last 3-4 years. If you are interested to invest in a good quality Multivitamin range and wanted to avail best franchise business benefits, then associate with Abiba Pharmacia, the leading PCD Pharma Franchise for Multivitamin Medicines.
High demand, good business opportunities, enhanced sales, and better returns indicate the excellent scoop of dealing with this medicine range. If you are interested to start your own business, then we are here at your service.
Best Quality Multivitamin Medicines For PCD Pharma Franchise
We at Abiba Pharmacia manufacture and deliver a wide range of medical products. The company has fabricated a product portfolio that contains the highest valued Multivitamin medicines. Our products are designed by the industry's best pharma experts and manufactured under state-of-the-art production houses. All the activities related to product designing, raw material sorting, product formulation & manufacturing, and even packaging take place under complete CCTV surveillance. Our medicines possess the best shelf-life and they are best in terms of Quality and Results. Below is the range available at the leading PCD Pharma Franchise for Multivitamin Medicines:
ABIVIT CAPSULES (Antioxidants With Multivitamin ,Minerals & Selenium Capsules).
LYOMUCH SYRUP (Lycopene 1000 mcg + Methylcobalamin 200 mcg Vit B complex + Vit.A 2500 IU + Vit.C 50 mcg + Vit.E Acetate 10 IU + Zinc Sulphate 3 mg + Selinium 35 mcg, Magnesium 2 mg & Minerals).
ABIGIN (Ginseng , Ashwagandaha , Antioxidants with Multivitamin & Multiminerals Capsule).
LYOMUCH CAP (Lycopene (6%) 5000 mcg + Vitamin A 5000 IU , Vit C 50 Mg, Vit E 10 mg, + Selenium Diaoxide 70 mcg + Zinc Sulphate 22.5 mg).
ABNERV FORTE (ETHYLCOBALAMIN 1500 MCG, PYRIDOXIME HYDR 100 MG+ NIACINAMIDE 100 MG ) MONO CARTOON WITH SYRINGE).
ABNERV-PLUS (Methylcobalamin 1500mcg+ Alpha Lipoic acid 100mg + Folic Acid 500mcg Thiamine Mononitrate 4500mcg + Pyridoxine 1500mcg).
ABNERV 2500 (METHYLCOBALAMIN 2500 MCG).
AFORC GL (Mulvitamin + Multiminerals softgel cap.).
ABNERV-P (Pregabaline 75 + Mecobalamin750MCG).
NEWVALV SOFT GEL (Soft Gel Capsules of Ginkgo Biloba 10 mg, Ginseng 42.5 mg, Grape Seed Extract 15 mg, Green Tea Extract( 50 %) 10 mg, Omega-3 Fatty Acid (EPA 90 mg, DHA 60 mg), Antioxidants, Vitamin, Minerals & Trace Elements).
LYOLOD (Soft Gel Capsules of Lyocopene 5000 MCG with Mutivitamin & Multiminerals).
ABIVIT SYP (Vitamin A 2500 IU+ Vitamin E 5 IU + Cholecalciferol 200 IU + Thiamine Hydrochloride 1 mg + Riboflavine Sodium Phosphate 1 mg +Pyridoxine Hydrochloride 1 mg +Niacinamide 15mg + Cyanocobalamin 1 mcg+ D-Panthenol 2.5mg + Zinc 3mg + Iodine 50mcg + Molybdenum 8mc g+ Selenium 10mcg+ Lysine Hydrochloride 30mg)
What Make Us Leading PCD Pharma Franchise for Multivitamin Medicines
Through relentless hard work and sheer dedication, Abiba Pharmacia has cemented its name as the best pharmaceutical company in the Indian Healthcare Map. The company holds the highest market cap and also has the highest success ratio. We are dominating the entire pharma fraternity through our vibrant pharma range including the Multivitamin Medicines. Below are the highlights of Abiba Pharmacia:
We have self-owned production houses that meet industrial standards.
All products offered by us are legally approved and certified by the legal authorities.
Our product portfolio covers the complete healthcare segment.
We make sure to inspect the products by passing them through several lab tests and microbial testing.
The company makes use of clinically proven and tested raw materials.
Kick Start Your Business with Best-in-the-Business "Abiba Pharmacia"
Abiba Pharmacia is a magnificent brand that delivers top-class Multivitamin Medicines for PCD Pharma Franchise. The company is assisted by the country's best pharma experts, researchers, product designers & developers. Our reliable nature, ethical working, transparency, product quality, logistics, and after-sale service is what makes us the best PCD Pharma Franchise for Multivitamin Medicines. Below are the benefits of working with us:
Monopoly rights for business.
Timely delivery through the most powerful delivery system.
Best ever pharma range.
Full quality assurance.
Free promotional support.
For More Details
Name: Abiba Pharmacia
Address: S.C.O – 3 & 4, Behind PGIMER, Vikas Nagar, Nayagaon, Chandigarh, Punjab 160103
Phone: +91- 8699402121
Email: sales@abibapharmacia.com.