PCD Pharma Franchise Company in Chhattisgarh – The pre-existing healthcare infrastructure of Chhattisgarh needs immediate up-gradation. People and patients here lack quality medical drugs and services to treat their health ailments. To provide quality pharmaceutical medicines and healthcare facilities, Abiba Pharmacia the best PCD Pharma Company in Chhattisgarh started delivering high-end pharma drugs at genuine rates. The primary motto of our company is to manufacture and deliver a quality tested and multi-dimensional drug range that helps the people of Chattisgarh to take care of their health issues effectively & efficiently.
Abiba Pharmacia is an ISO certified pharma company that is proficient to deliver superb quality pharma range. We are working by following a systematic hierarchy and by adhering to all the industrial guidelines. The company is loaded with state-of-the-art manufacturing units, appealing infrastructural facilities, in-house quality testing labs, and R&D departments. By connecting with the leading PCD Pharma Franchise Company in Chhattisgarh, Abiba Pharmacia you can reach new heights of success.
Get free promotional support, enjoy prompt delivery, on-field support, high-quality pharma products by connecting with us. Dial +91 8699402121, or you can also drop an e-mail at sales@abibapharmacia.com to know more.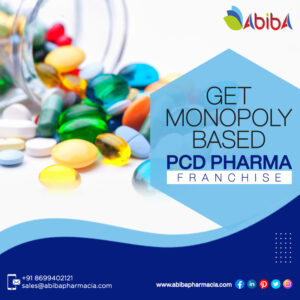 Abiba Pharmacia | Top PCD Pharma Franchise Company in Chhattisgarh
We are a leading PCD Pharma Franchise in India that has reached new heights of success in the pharma industry through its hard work and relentless commitment to delivering a secured and quality pharma range. The company brings a mixture of modernized tools and thoughtful minds. Our infrastructural facilities are the best among the pharma fraternity. Our manufacturing process and quality testing go hand in hand making working efficiently.
Here are the benefits of Abiba Pharmacia:
A product range that is legally approved and passed through various quality tests.
Free of cost promotional tools provided to all franchise holders.
Product manufacturing is done using the best quality extracts derived from genuine sources.
GMP-WHO certified labs equipped with modernized tools and devices.
Adherence with the systematic manufacturing process for better output.
Prompt delivery promised via a strong logistics channel.
We leave no stone unturned to discharge our duties and follow a centralized quality checking process to make sure the quality of our products. Our facilities and franchise services are capable to leave mesmerized. So if you are interested to start your own business, then get in touch with the top PCD Pharma Franchise in Chhattisgarh, Abiba Pharmacia.
Pharma Range Offered By Us for PCD Pharma Franchise Business
Using rich resources and all our tools, we have come up with a highly demanded and wide range of pharma medicines that covers the entire healthcare segment. Apart from this, we deliver medicines that are 100 percent quality assured and passed through several tests before coming into the market. Further, these products are manufactured under excise-free zones so that you don't have to pay extra for them.
Here is the pharma range delivered by the best PCD Pharma Company in Chhattisgarh:
Anti Amnesic Drugs
Ayurvedic Range
Antibiotics
Gastro Range
Pediatrics Range
Antioxidants & Multivitamins
Dental Range
Pain Management Drugs
Drugs for Cough & Cold
Gastro Range
Orthopedic Range
Steroids
Gynecology Range
Veterinary
These ranges are available in different types of packaging and dosages. All these products will be delivered on time and under fully hygienic, air-tight, and secured packaging making them look more attractive. So get your hands on these fabulous products by becoming our products by becoming a product partner of Abiba Pharmacia, the top PCD Pharma Franchise Company in Chattisgarh.
Promotional Support Provided as Additional Assistance
Abiba Pharmacia aims to provide complete help to its franchise holder. The company is familiar with the rising competition in the market and provides a custom-made set of promotional tools to all its franchise holders so that they can promote their products.
Here is the list of promotional tools delivered by the best PCD Pharma Company in Chhattisgarh:
MR Bags.
Diaries.
Notepads.
Reminder Cards.
Chemist Order Books.
Company Literature.
Visual Aid
Advantages of Choosing Abiba Pharmacia in Chhattisgarh
Abiba Pharmacia is one of the most powerful and technically sound pharma brand names working in the Indian Pharma industry. The firm is counted among the best companies due to its client-centric and quality-focused business approach. Many professionals rely upon us to get the best franchise deals and products at decent rates. We are a company that operates ethically and believes in teamwork at the same time.
Abiba Pharmacia offers the following benefits:
Genuine prices of products.
Unique monopoly rights for the business.
Chance to work at your preferred location.
Delivery through the systematic supply chain.
On-field support.
Excellent margins.
High profits with less investment.
So what you are waiting for? Grab amazing deals and rule the Chhattisgarh market by connecting with the most powerful and leading PCD Pharma Franchise Company in Chhattisgarh, Abiba Pharmacia.
Contact Us
Name: Abiba Pharmacia
Address: S.C.O – 3 & 4, Behind PGIMER, Vikas Nagar, Nayagaon, Chandigarh, Punjab 160103
Phone: +91- 8699402121
Email: sales@abibapharmacia.com.