Abiba Pharmacia is the Top PCD Pharma Franchise Company in Mumbai that is well known in the market for offering mesmerizing services to its customers. The company is ISO certified and gained the trust of so many people through its flawless product range and effective marketing strategies. We have a team of experts who do not make any compromise with the product quality.
As the best Pharma Franchise Company in Mumbai, we hole rich experience of working in this particular domain. We have ultra-modern infrastructural facilities that are furnished with modern devices. To manage and deliver a quality product, we have hired a team, of pharma experts who are champions in their field of work. These people are working with the vision to bring out the best outcome in less time.
Mumbai is India's most popular city and a place that has a high population and a maximum number of industries. With the increasing population, the demand for pharma medicines and products is also growing in the city leaving a shortage of quality drugs. So starting your own pharma franchise business with the leading PCD Pharma Franchise Company in Mumbai will be a great decision. So if you are willing to step into the pharma industry, then Abiba Pharmacia is what you need.
Get in touch with Abiba Pharmacia now to grab the best franchise deals. Call us at +91 8699402121 or you can also drop an e-mail at sales@abibapharmacia.com.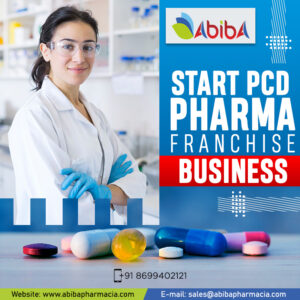 Scope of Pharma Franchise Business in Mumbai
Mumbai is one of the most famous cities of Maharashtra and a place that consists of a huge population. This city is backed up by a population of around 20,668,000 and the demand for quality pharma medicines is also rising here. It is expected that the pharma industry will continue to grow here and this growth will almost get doubled in the coming time.
According to the data, the pharma industry has witnessed a huge jump in the last 3-4 years and it is not anticipated that any company that will supply excellent quality pharma drug range in the Mumbai market will earn better profits. Few variables like better growth opportunities, government support, profitable markets, big industry, presence of quality-centric population, easy availability of resources, etc make this place the, most preferred location to start a pharma franchise business.
Top PCD Pharma Franchise Company in Mumbai | Abiba Pharmacia
Choosing the right company for the pharma franchise business is critical as all the advantages and benefits will be linked with the company that you will decide to associate with. That is the reason we suggest you grab the hands of Abiba Pharmacia. We are the best PCD Pharma Franchise Company in Mumbai that is fully involved in the business of manufacturing and supplying pharma products at reasonable prices. We are backed up by a powerful logistics and supply chain system that allow us to deliver products in the stipulated time. The company will help you establish and expand your business in the most efficient manner.
Following are the major highlights of Abiba Pharmacia:
Proficiency in delivery products in bulk quantities.
ISO certified company.
Modernized infrastructural facilities.
Fully integrated manufacturing units.
A team of professional experts.
Separate R&D department for innovation purposes.
Cost-effective pharma range.
Exclusive Services Provided to Our Franchise Associates
Abiba Pharmacia never leaves the hands of its associates and always tries to provide complete support to all its franchise partners. We are a pretty experienced firm that is working in this domain for a long time span. Being an experienced firm we are well versed with the high level of competition in the market. That is the reason the company equips its clients and franchise partners with all the tools and services required to bat the competition and efficiently work in this industry.
Here are the exclusive services provided to our franchise associates:
Unique Monopoly Rights.
Free of cost Marketing Support.
Promotional Tools.
Quality Assured products in bulk quantities.
Timely Delivery
Full customer support
Field support.
So these were the services that we will exclusively provide to our associates and if you are the one want to avail all these mesmerizing services, then you just simply need to become a proud associate of the best PCD Pharma Franchise Company in Mumbai, Abiba Pharmacia.
Get Monopoly Based Pharma Franchise Business Deals in Mumbai
If you are the one who is interested to start your own business in the pharma industry or you are the one willing to step into the pharma industry and wanted to avail yourself the maximum number of benefits then Abiba Pharmacia is what you need. We are the leading PCD Pharma Franchise Company in Mumbai that is offering monopoly-based pharma franchise business opportunities in the city to all interested individuals, pharma dealers, and business seekers.
The sale structure of the company is easy to understand and franchise deals provided by us will yield mutual benefits. By connecting with us, you will get some exclusive benefits that you cannot resist. So what you are waiting for? Grab amazing franchise business deals simply by contacting us at the below-given contact information.
Contact Us
Name: Abiba Pharmacia
Address: S.C.O – 3 & 4, Behind PGIMER, Vikas Nagar, Nayagaon, Chandigarh, Punjab 160103
Phone: +91- 8699402121
Email: sales@abibapharmacia.com.