PCD Pharma Franchise Company in Nagaland– Abiba Pharmacia is the leading Pharmaceutical company in Nagaland offering a wide range of pharmaceutical formulations. We are a group of highly passionate and experienced pharma professionals. Well-known for the diverse range of pharma products, Abiba Pharmacia offers a lucrative business opportunity to the residents of Nagaland. Abiba is the Best PCD Pharma Franchise Company in Nagaland offering its franchise services bundled with exclusive offers and incentives.
Start your own business in the pharma segment. Yes, it is time that you run your own business that deals in a variety of pharma products that too within Nagaland. You get all the products and services delivered to you within Nagaland. Thus, bag this chance to set up a professional business and a source for long-term revenue for yourself in Nagaland. Get your hands on the best products provided by Abiba Pharmacia, Top PCD Pharma Franchise Company in Nagaland.
Does this seem appealing to you? Wish to kick start your pharma business? Want to know more about PCD Pharma Franchise in Nagaland? Then give us a call at + (91) 8699402121 or you can even drop us a mail at sales@abibapharmacia.com.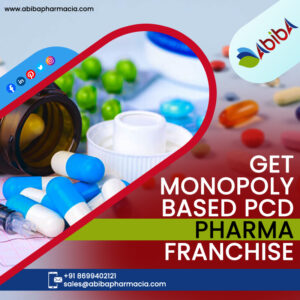 Monopoly Based PCD Pharma Franchise in Nagaland
Nagaland is one of the strategic northeastern states of India that has its own unique cultures and traditions and so are the rights provided by Abiba. Abiba provides unique marketing and distribution rights or monopoly rights to its franchise partners. This means, that our franchise partners have an exclusive authority to deal in our products in a particular region assigned to you, and nobody challenges your right. Thus, no other person can enjoy the same benefits as you in that particular region. You get exclusive monopoly rights on the assigned territory through the PCD Pharma Franchise in Nagaland.
Thus, you enjoy added advantage over any other pharma products dealer in that region. This gives you an edge over any other pharma dealer in your region. With these exclusive rights, you can expand your business exponentially and reach the peak of your career. So, before somebody else gets hold of your preferred region, contact us to get the best Monopoly-based PCD Pharma Franchise in your preferred region.
Target Locations for PCD Pharma Franchise in Nagaland
As the Top PCD Pharma Franchise Company in Nagaland, we've covered a lot of cities in the state and are looking for interested parties to set up Pharma Franchise in the remaining cities of the following districts:
Kohima District
Dimapur District
Zunheboto District
Kiphire District
Longleng District
Mokokchung District
Wokha District
Mon District
Peren District
Tuensang District
Phek District
Noklak District
What makes Abiba Pharmacia better than any PCD Franchise Company in Nagaland
There are several pharma companies available in India but what is it that differentiates Abiba Pharmacia from any other pharma company? Abiba Pharmacia is the leading PCD Pharma Franchise Company in Nagaland and throughout India as well. All this can be accredited to the efforts of the founders and the present team. Abiba Pharmacia is backed by a team of highly passionate and ambitious pharmacists who know their way to making Abiba the Top Pharma Franchise Company.
Abiba Pharmacia has always encouraged innovation and creativity among its employees. And thus with their efforts, we offer a diverse product portfolio. With their efforts, we have managed to diversify into several therapeutic ranges. All our products are fully tested and verified by quality control teams and the drug regulatory authorities of our nation.
Following are some of the points that make us the best PCD Pharma Franchise Company in Nagaland:
provision of exclusive marketing rights to its associates
support in creating brand awareness in assigned territory
provision of promotional tools such as visiting cards, visuals, MR bags, etc
assistance in the formulation of  marketing strategies
quick delivery of products to franchise partners
vast logistics network to facilitate quick delivery
warehouses located at strategic places throughout the nation
Diverse Product Range for PCD Pharma Franchise in Nagaland
Abiba Pharmacia offers a diverse product portfolio comprising pharma products pertaining to all the major therapy segments. Abiba offers pharma products through several pharma formulations such as tablets, capsules, injections, syrups, powder, etc. The various pharma products offered by Abiba Pharmacia are classified below:
Anti Amnesic Drugs
Antioxidant & Multivitamins
Dental Range
Gastro Range
Gynaecology Range
Steroids
Orthopedic Range
Antibiotics Products Franchise
Ayurvedic Range
Drugs For Cough & Cold
Pediatric Range
Pain Management Drugs
Veterinary
Choose the Most Competent Pharma Company in Nagaland
When you plan to start a Pharma Franchise in Nagaland, it is important that you associate with the most competent pharma company in Nagaland. Make sure that the company you associate with is capable enough to support you and provide you with top-quality products at your location. To assist you in this decision, Abiba Pharmacia is more than competent to associate with PCD Pharma Franchise in Nagaland.
It is important that you understand who is in a better position to support you throughout your journey as their franchise partners. Abiba Pharmacia is known for providing complete support to its franchise partners in setting up and running the pharma franchise business. We ensure that our franchise partner is able to establish themselves as a strong company in the pharma segment.
Make a wise decision of your life to choose the best PCD Pharma Franchise Company in Nagaland. Contact us through the details mentioned below and progress with us towards the journey of fulfillment.
Contact Details
Name: Abiba Pharmacia
Address: Abiba Pharmacia Private Limited, S.C.O – 3 & 4, Behind PGIMER, Vikas Nagar, Nayagaon, Chandigarh, Punjab 160103
Phone: + (91) 8699402121
Email: sales@abibapharmacia.com