PCD Pharma Franchise in Kozhikode – The pharma industry in India is one of the best ways to start your own business and there is nothing better than working with one of the leading pharmaceutical organizations of the industry, Abiba Pharmacia. The company is ISO 9001:2015 certified and is inviting medical representatives, pharma aspirants, interested business seekers, retailers, and wholesalers to come and take the Best PCD Pharma Franchise in Kozhikode from us. Working with us will bring you good fortune and will help you to get your hands on a wide range of pharma products.
Abiba Pharmacia is the preeminent manufacturer of high-quality pharma solutions. The company is needed in the production and supply of a broach range of pharma solutions. We have a team of experts who invest heavy time and energy to come up with a GMP-WHO-approved medicine range. Our products meet all quality parameters and are available in the form of Tablets, Sachets, Syrups, Capsules, Ointments, Injections, etc. If you are aiming to start your own business in the southern region of India, then choose the Top PCD Pharma Franchise Company in Kozhikode, Abiba Pharmacia.
Become a part of Abiba Pharmacia and grab the best pharma franchise deals. Call us at 91 8699402121, or you can also drop an e-mail at sales@abibapharmacia.com to know more.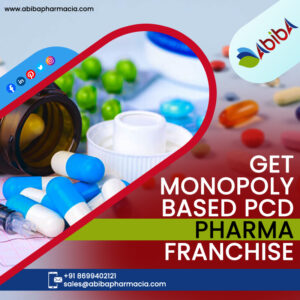 Kozhikode – A Land of Fruitful Pharma Franchise Business Opportunities
Kozhikode is one of the biggest and famous coastal cities of the biggest South-Indian state Kerala that is becoming a prime location for a franchise business. With a high population of more than 3,742,000, this place is one of the populated dense cities of Kerala. The growing population along with rising healthcare issues among people are becoming a concerning issue among the local and surrounding community here.
As per a recent report, the demand for pharma medicines has witnessed a 50% rise in the last 2-3 years. Thus, dealing with pharma medicines will result in more sales and profits. If you have any plans to jump into the pharma sector and you want to work with the top-rated company, then choose Abiba Pharmacia. We are offering a monopoly-based PCD Pharma Franchise in Kozhikode with astounding business deals and franchise support.
Elite Range of Pharma Products Available for Kozhikode Population
By optimally using the resources and utilizing state-of-the-art facilities, Abiba Pharmacia the Best PCD Pharma Franchise Company in Kozhikode has come up with India's most popular pharma range. We have a vast range of medical solutions to meet everyone's necessities. Our products are designed by the nation's best pharma practitioners and passed through several quality tests that show their quality and safety standards. This range covers the entire healthcare segment and are delivered under astonishing packaging.
Range delivered for PCD Pharma Franchise in Kozhikode:
Steroids
Antioxidants & Multivitamins
Dental Range
Steroids
Gynecology Range
Gastro Range
Pediatrics Range
Ayurvedic Range
Drugs for Cough & Cold
Veterinary
Orthopedic Range
Anti Amnesic Drugs
Pain Management Drugs
Outstanding Marketing Tools Provided to the Distributors
Product once manufactured needs to be promoted and creating awareness among the customer is very crucial to enhance the net sales and profits. Sometimes a quality product if not promoted effectively fails to bring positive results due to poor marketing strategies. Thus, the Top PCD Pharma Franchise Company in Kozhikode has come up with a strategically built line of promotional tools that will help our clients & distributors to effectively promote and market the products.
Tools delivered by Abiba Pharmacia:
Brochures
MR Bags
Chemist order book
Notepads
Prescription bags
Diaries
Promotional Literature
Sample covers
Visiting bags
Reminder cards
Visual Aids etc.
Why Choosing Abiba Pharmacia for PCD Pharma Franchise in Kozhikode will be Profitable?
Collaborating with one of the leading pharma organizations Abiba Pharmacia will be one of your best business decision. The company is redefining quality through its innovative procedures, marketing strategies, and world-class infrastructure. If you choose us, you will get your hands on India's most profitable and genuine business deals that will give you guaranteed profits.
Inspired by the quality aspect, we are wholeheartedly involved in the business of manufacturing and supplying a top-rated range of pharma products that meets the international quality & safety norms. Below are the benefits of taking the PCD Pharma Franchise in Kozhikode from us:
We have state of art GMP-WHO-approved manufacturing units.
We follow ethical manufacturing protocols to bring out the safest outcome.
Our experts use dope-free substances to manufacture the medicines.
We will provide full monopoly rights to our clients.
You will get the products under the stipulated time period.
If you are planning to invest your money in the pharma sector and wanted to own a business in this region, then take PCD Pharma Franchise in Kozhikode from Abiba Pharmacia. Choose us and grab the best pharma franchise deals.

Contact Details
Name: Abiba Pharmacia
Address: S.C.O – 3 & 4, Behind PGIMER, Vikas Nagar, Nayagaon, Chandigarh, Punjab 160103
Phone: +91- 8699402121
Email: sales@abibapharmacia.com.