PCD Pharma Franchise in Pondicherry – Looking for the best PCD franchise in Pondicherry? So let's introduce Abiba Pharmacia, the pharmaceutical company with ISO certification. We are the finest choice for a Pondicherry PCD Pharma Franchise. The pharmaceutical industry is expanding rapidly, providing excellent business opportunities for all pharma professionals and job seekers to launch their own businesses. We provide the best services for PCD Pharma Franchise in Pondicherry with a large selection of products offered at affordable prices. Get monopoly-based distribution for PCD franchise opportunities in Pondicherry, Yanam, Mahe, Karaikal, etc., and take advantage of the novel drug forms of tablets and capsules, dermatology soft gels, dry injectables, skin creams, powder supplements,  and ointments, among others.
Antibiotics, anti-allergic, anti-infectives, analgesics, and other drugs are all included in the wide spectrum of medications available for franchise businesses. These pharmaceuticals are manufactured in accordance with GMP standards that have been approved by the WHO. We are committed to offering safe, non-contaminated medications for improved health outcomes. The enticing business opportunity for higher economic growth is a PCD Pharma franchise. For a more successful franchise business, the company provides its associates with a variety of marketing techniques. With the aid of logistic partners, the corporation placed a strong emphasis on the prompt delivery of goods across the country. These qualities provide us the ability to offer the PCD Pharma Franchise in Pondicherry.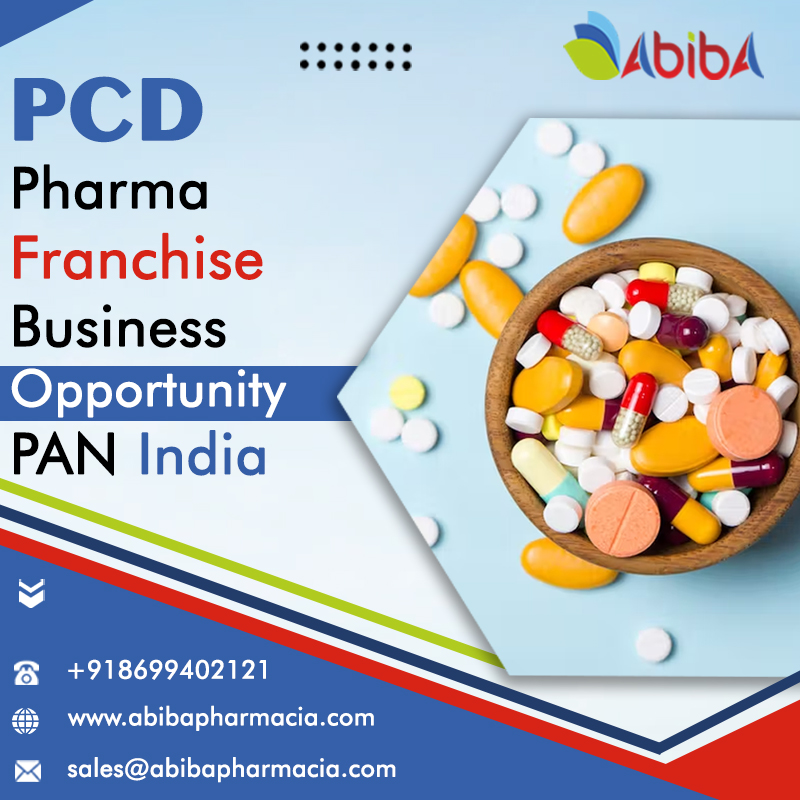 If you're interested in joining our organization for the Pharma PCD Franchise Business in Pondicherry, call us at +91 8699402121 or drop us an email at sales@abibapharmacia.com to learn more about our offers.
Why people should Opt for Pharma Franchise in Pondicherry?
Pharmaceutical companies are now heavily impacted by a variety of variables in Pondicherry. The government of Pondicherry has taken great efforts to raise public knowledge of the healthcare industry. We extend a warm welcome to anyone interested in beginning a PCD pharma franchise business in Pondicherry as a lone proprietor or business partner. As a franchise owner of medicines, you have access to a range of business prospects, including:
In the first place, PCD Pharma welcomes a variety of benefits for your business.
The startup investment is affordable and won't empty your bank account.
The market for pharmaceuticals has grown and offered promising opportunities in Pondicherry.
Hospitals and medical institutions in these cities have been expanding and creating a variety of demands.
The excellent caliber and effectiveness of our company's medications are trusted by the local population. In order to manage a reliable source of income.
Best PCD Pharma Franchise in Pondicherry | Abiiba Pharmacia
Abiba Pharmacia is a reliable name in the pharmaceutical industry. The manufacturing facility owned by the company allows it to manufacture all of its products in facilities that are WHO and GMP-approved. There is a huge selection of products offered by this company. With the help of their trained and experienced employees, Abiba helps companies create vital formulations. The company consistently rolls out innovative new products in line with market trends. Because of this, they have given us a significant place in the pharmaceutical market and industry. The organization encourages you all to join our team as our associates and experience amazing success in the pharmaceutical industry by partnering with the top PCD Pharma Franchise Company in Pondicherry.
Some of the highlights of the leading Pharma Franchise Company in Pondicherry are:
Manufacturing Units with WHO and ISO certification
 A variety of quality-assured pharma products
Formulations that adhere to all of the quality criteria
All medications have DCGI certification
Pure and high-quality APIs
To offer effective drugs, there must be no quality compromise.
Quality Assured Range of Products for PCD Franchise
Abiba Pharmacia is committed to providing a variety of pharmaceutical products that have undergone proper research and innovation. Our team includes specialized quality control professionals that oversee the ongoing manufacturing process and provided ongoing oversight up until the delivery of the medications. You can obtain high-quality pharmaceutical packaging that is leak-proof and brokerage. The following pharmaceutical industries are all covered by the Abiba:
Antibiotics
Cardiology
Anti-inflammatory
Orthopedics
Derma
Multivitamins
Anti-allergic
Pediatric
Ayurvedic
Gynecology, etc.
Benefits of Owning PCD Pharma Franchise in Pondicherry
Today, Abiba Pharmacia renowned pharmaceutical company due to a number of characteristics. We have put in a lot of effort to manufacture effective and innovative medicines that can enhance people's lives. We are a company that has received accreditation from several organizations related to health, including ISO, WHO, and the GMP. Our company offers a unique selection of products for the pharmaceutical franchise. We have the greatest services in Pondicherry, India, thanks to our monopoly-based franchise. Benefits from the aforementioned advantages of making an investment with Abiba Pharmacia are:
• A large selection of DCGI authorized will be available from our company.
• We have made sure that all quality control procedures are followed when producing pharmaceuticals.
• The contamination-free setting for Puducherry's pharmaceutical manufacturing.
• Our partners in logistics enable us to distribute products quickly.
• More than 300 medications for distribution by franchises.
Contact Details
Name: Abiba Pharmacia
Address: S.C.O – 3 & 4, Behind PGIMER, Vikas Nagar, Nayagaon, Chandigarh, Punjab 160103
Phone: +91- 8699402121
Email: sales@abibapharmacia.com.