PCD Pharma Franchise in Vadodara – Your search for the best pharmaceutical company ends here. Abiba Pharmacia, an ISO 9001:2008 certified Pharma Company that has taken everyone by storm through its high-quality pharma range and class infrastructure. The company has a broad product portfolio that covers segments like Anti Amnesic Drugs, Pediatric range, Antibiotics, Ayurvedic range, Dental range, Gynecology range, Orthopedic range, etc. We are the top PCD Pharma Franchise Company in Vadodara that acts as a one-stop shop for getting high-quality products along with a monopoly pharma franchise business opportunities.
Started in the year 2014, Abiba Pharmacia has traveled a long way and become the prominent pharmaceutical company that manufacture, export, delivery, and trade exclusive pharma range. The company provides pharma franchise business opportunities to all the pharma experts, retailers, dealers, medical representatives, etc. Moreover, we are backed with modernized infrastructure and a skilled pharma workforce. By joining the leading PCD Pharma Franchise in Vadodara, Abiba Pharmacia you can start your own business in a hassle-free manner. The company is committed to providing full support to its clients. You will get on-time product delivery, a wide product range to deal with, quality-assured medicines, monopoly rights, and much more.
So without any further delay, contact the best pharma company in Vadodara, Abiba Pharmacia, and get genuine franchise business deals. Dial 91 8699402121, or you can also drop an e-mail at sales@abibapharmacia.com.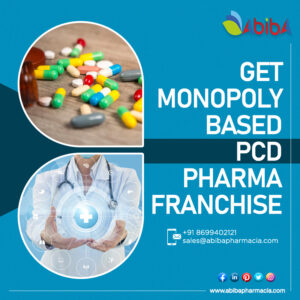 Best PCD Pharma Franchise in Vadodara | Abiba Pharmacia
Abiba Pharmacia is the most renowned and celebrated pharma company in India that is operated by skilled hands and thoughtful minds. With the guidance of our core committee and marketing team, the company has made its way to the very top in the list of best Pharma PCD Franchise Companies in Vadodara. Further, the company is offering marvelous business opportunities and welcoming all the interested individuals to join us. By working with us, you will unlock doors for growth and business opportunities.
Have a look at the features of Abiba Pharmacia:
We own modernized manufacturing labs with full air conditioning facilities.
The entire drug range delivered by us is legally certified.
We have hired a team of top-rated experts for product designing and production.
Abiba Pharmacia is backed by a systematically managed transportation network.
We make use of imported machinery and well-programmed tools to bring our best results.
Premium Quality Range Available for PCD Pharma Franchise
Products are the key highlight of Abiba Pharmacia. The company aims to deliver a top-class pharma range that is scientifically tested and perfectly crafted. The entire range that we deliver is approved by the authorities and trusted by millions of users across the country. We make use of the best quality herbs and pure ingredients to manufacture our products. All such things have helped us to gain the spot of the top PCD Pharma Franchise Company in Vadodara.
Here is the pharma range available at Abiba Pharmacia for distribution:
Steroids
Anti Amnesic Drugs
Antioxidants & Multivitamins
Pediatrics Range
Gastro Range
Orthopedic Range
Dental Range
Gastro Range
Ayurvedic Range
Drugs for Cough & Cold
Pain Management Drugs
Gynecology Range
Veterinary
Further, the company makes sure to pack its products in air-tight and moisture-free packaging. This further acts as an additional layer of protection and safeguard the products from potential hazards. Moreover, we aim to include innovative formulations in our product portfolio every month.
Highlights of Our Modernized State of the Art Infrastructure
Being the leading PCD Pharma Franchise in Vadodara, we aim to deliver only the best. The company holds the ownership of astonishing infrastructure wherein each and every activity is carried out properly and in a hassle-free manner. To make pharma manufacturing smoother, the company has established huge and spacious manufacturing arenas that are proficient to carry out bulk production.
Have a look at the insights of our infrastructure:
We have in-house quality testing units for product enhancement and procurement.
Our production houses are furnished with hi-tech tools and programmed devices.
The company owns the infrastructure that is spread over a wide piece of land.
We carry out manufacturing under excise-free zones.
Regular sanitization and cleanliness of premises are given full preference.
We have separate packaging units for hassle-free packaging of products.
Get Started with the Top PCD Pharma Franchise in Vadodara
Choosing Abiba Pharmacia will be a great business decision if you wanted to secure a bright future in the pharma sector. Abiba Pharmacia is growing at superb speed and offering mesmerizing business opportunities to all prospects. By choosing us you can start your own business with ease that too at your desired location. The company will provide you full support and will also help you establish your business in the Vadodara market.
Below are the benefits of choosing the best Pharma PCD Franchise in Vadodara:
You will get a year-round supply of products.
The company will provide free promotional support.
You will get 24*7 customer support.
Our experts will also help you with business planning.
New additions at regular intervals.
Genuine franchise deals.
Apart from this, the company has a big customer base and a PAN India presence. You can use our industrial exposure and resources to grow in the market.
For More Details
Name: Abiba Pharmacia
Address: S.C.O – 3 & 4, Behind PGIMER, Vikas Nagar, Nayagaon, Chandigarh, Punjab 160103
Phone: +91- 8699402121
Email: sales@abibapharmacia.com.