Top PCD Pharma Franchise in Odisha – Wanted to start your own pharma business in locations like Jajpur, Angul, Kendrapara, Koraput, Rayagada, Bargarh, Sundargarh, Deogarh, Gajapati, Sambalpur, etc. If yes, then have look at Abiba Pharmacia. We are an ISO 9001:2008 pharmaceutical organization that is engaged in the business of manufacturing and delivering high-quality pharma products. The firm today is regarded as the Best PCD Pharma Franchise Company in Odisha because of its standardized manufacturing, enhanced affordability, quality assurance, and prompt delivery.
We deliver products that are designed as per the international quality guidelines and manufactured under GMP-WHO-approved facilities under the supervision of India's best quality inspection team. As per the company's business expansion program, the Top Pharma PCD Franchise Company in Odisha is offering monopoly-based business opportunities. By working with us you will get hands-on products available in the form of Tablets, Injections, Capsules, Ointments, Sachets, etc. Our pharma franchise business proposals in a wonderful opportunity for you to start your own business in the pharmaceutical sector in Odisha.
Be a part of Abiba Pharmacia and walk towards success. If you find this information interesting and you want to grab more details, then dial 91 8699402121, or you can also drop an e-mail at sales@abibapharmacia.com.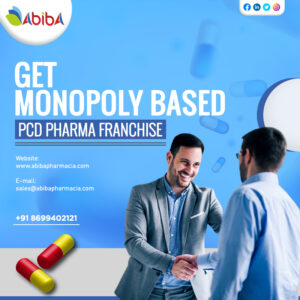 Scope of Odisha Based PCD Pharma Franchise Business
Odisha is one of the biggest eastern states of India that is famous for its tribal cultures and ancient Hindu temples. Home to hundreds of temples and more than 4.68 crore people, this place is considered one of the best places to start a PCD Pharma Franchise business. The scope and growth of this business industry have been anticipated by looking at the never-ending demand for pharma products & drugs in the state.
The demand graph for pharma products has inclined to 50% in the last 2-5 years in different parts of Odisha. Therefore, if you are looking to jump into the pharma sector and wanted to begin your journey with the best, then associate with the Leading PCD Pharma Franchise Company in Odisha, Abiba Pharmacia, and get yourself some of the most irresistible business deals.
In addition to this, below are some key things that make investing in Odisha worthwhile:
Consistently growing demand for medicines.
Collective state and center government support.
Booming state economy.
Bigger markets.
Presence of huge target audience.
Top PCD Pharma Franchise in Odisha – Abiba Pharmacia
Abiba Pharmacia is Odisha's most trusted and reliable pharma brand that delivers a broad range of top-quality pharma products. The company deals in multiple ranges that cover the entire healthcare segment. We are famous for our product quality and stipulated delivery. With over more than 10+ years of industrial exposure & expertise, we are offering 150+ high-quality life-saving medical therapies. Apart from these, there are many more things in which we excel. For your clarity, we have listed the things that make us the Best Pharma PCD Franchise Company in Odisha:
The company offers unique monopoly rights for business.
We have self-owned and approved manufacturing arrangements.
The company delivers premium quality products with full quality assurance.
You will get the opportunity to work without any external interruption.
The company has a PAN India presence.
Locations in Odisha Where we Offer Business Opportunities
Odisha is the land of opportunities, especially for pharma aspirants. Abiba Pharmacia, the Top PCD Pharma Franchise in Odisha is offering fruitful business opportunities to the pharma aspirants, medical representatives, pharma experts, and interested business seekers of Odisha. We are giving you a chance to be a part of India's most powerful pharma brand. With us, you can start and expand your business without spending a huge sum of money. Below are the locations in Odisha where we offer monopoly based PCD Franchise business opportunities:
Angul
Sundargarh
Bhadrak
Balasore
Kandhamal
Boudh
Sonepur
Balangir
Sambalpur
Koraput
Dhenkanal
Bargarh
Gajapati
Jajpur
Deogarh
Complete Range of Pharma Products Available for Outsourcing
We are a technically sound pharma organization that is driven by quality improvement and enhancement. The company emphasizes optimal utilization of resources and brings out standardized products. Our products come with unmatchable quality and comply with the global quality norms as well. Find India's best pharma range delivered by the Top Pharma PCD Franchise Company in Odisha, Abiba Pharmacia:
Anti Amnesic Drugs
Antioxidants & Multivitamins
Ayurvedic Range
Dental Range
Steroids
Veterinary
Gastro Range
Pain Management Drugs
Pediatrics Range
Orthopedic Range
Drugs for Cough & Cold
Gynecology Range
Advantages of Picking Abiba Pharmacia for PCD Pharma Franchise in Odisha
Working with the best in the business "Abiba Pharmacia" in a place like Odisha will bring you many growths, business, rewarding, and profitable business opportunities. The company is a leading name in the field of franchise business that has gained tremendous popularity among the pharma community and your pharma aspirants. By working with us you will get the following benefits:
Innovative products.
Free promotional tools.
Great packaging.
Year-round stock availability.
24/7 customer support.
Assured returns and attractive incentives.
Grab More Details
Name: Abiba Pharmacia
Address: S.C.O – 3 & 4, Behind PGIMER, Vikas Nagar, Nayagaon, Chandigarh, Punjab 160103
Phone: +91- 8699402121
Email: sales@abibapharmacia.com.