Anti-Inflammatory Products Franchise – With a market size of $98,020 million in 2020, the Global Anti-inflammatory Medicine Market is estimated to reach $125,500 million by 2028, with a CAGR of 4%. By viewing the highest growth factors of the forthcoming Anti-inflammatory therapeutics market, many business investors all over the country strive to run their own business in this specific medicinal segment. This has influenced Abiba Pharmacia to come with best-in-rank Anti-inflammatory Medicines for PCD Pharma Franchise across the country.
Abiba Pharmacia is an ISO 9001:2008 certified pharmaceutical company that is setting high standards in the pharmaceutical industry with its quality-driven medicinal solutions to people all over the country. We promise to deliver drugs that are scientifically tested and are researched with technical methodologies. Our products are produced in the form of tablets, syrups, capsules, sachets, drops, and much more. Being the Top PCD Pharma Franchise Company for Anti-Inflammatory Products, we wholly adhere to international quality standards to maintain the trust we hold of all our clients and customers across the nation.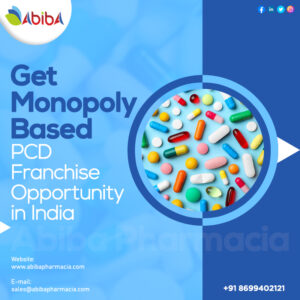 Know more about our product portfolio, requirements, business deals, and much more. Call us on +91- 8699402121 or drop an email at sales@abibapharmacia.com.
Righteous Choice of Working With Anti-Inflammatory Products in India
With the growing prevalence of diseases including Asthma, Chronic Obstructive Pulmonary Disease (COPD), Migraines, Menstrual Pains, Rheumatic Arthritis, Sprains, etc., the demand for anti-inflammatory medicines is resultantly moving upwards in the pharmaceutical market. Anti-Inflammatory Drugs, also known as Non-Steroidal Anti-Inflammatory Drugs (NSAIDs), are used to relieve the pain and symptoms associated with these health conditions.
The increase in the demand for anti-inflammatory products in the past decade is forecasted to be rise at a much healthier rate in the upcoming years. This makes it an impeccable choice for the business seekers to invest in anti-inflammatory medicines as it contains high profits margins at a cost-effective investment. Thus, grab the opportunity of PCD Pharma Franchise for Anti-Inflammatory Range offered to you by Abiba Pharmacia, and avail of superabundant franchise benefits.
Abiba Pharmacia – Leading Pharma Franchise Company for Anti-Inflammatory Drugs
Abiba Pharmacia is a leading brand name that is widely known for its superior quality pharma product portfolio and impressive business deals. We have a state-of-the-art infrastructure that is segregated into various departments such as the administrative department, production department, quality testing department, and several other departments. By holding experience of more than 10 years, we are committed to escalate access to better healthcare solutions by developing, formulating, and marketing high-quality pharma products.
Have a view of the high points of Abiba Pharmacia:
Well-managed manufacturing units adhere to WHO-GMP accreditations.
Highly qualified professionals that hold years of Industry experience and high-tech knowledge.
Well-maintained quality inspecting labs that ensure safe, pure, and free from side effects medicines and drugs.
Minimum wastage of compounds and essential ingredients for effective medicine production.
Set of Quality Measures Pursued for Better Quality Medicines
Being a quality-driven company, our centered emphasis lays on the quality of our formulations that should always reach the peak of quality norms. The company is settling its in-depth knowledge-based practices to ensure optimum quality of medicines. We adhere to sophisticated quality assessment procedures that are implemented under the guidance of legal authorities. Moreover, we have pursued a complete set of quality policies to obtain optimal safety levels and quality signatures. Have a look at the quality measures adopted by Abiba Pharmacia:
We follow industrial market norms to ensure maximum quality satisfaction of products.
Our formulations undergo a series of protocols including scientific screenings, microbiological testing, and other tests.
We practice accurate labeling and air-tight packaging of products to ensure better shelf life.
The company has sanitized and hygienic infrastructure for the safest and purest product quality.
How Will it be Beneficial to Obtain Anti-Inflammatory Range for PCD Pharma Franchise from Us?
Abiba Pharmacia is a monopoly-based pharma company that is welcoming all the newcomers, pharma experts, medical representatives, retailers, wholesalers, etc., to get the opportunity of dealing with premium quality anti-inflammatory products. We have been willingly manufacturing, trading, and supplying a wide range of pharmaceutical compositions that assure the complete value of money to our clients and customers as well. Our pursuit to satisfy our business associates with all that they require for their business is what separates us from our peers in the pharmaceutical sector.
The benefits we have mentioned right below are prepared with a keen focus to be offered to our franchise holders:
Dignified Monopoly Rights
On-time Delivery of Products
Broad Product Line of Anti-Inflammatory Medicines
Fair and Impressive Business Deals
Attractive Increments and Rewards
Firm Promotional and Marketing Support
Dealing with anti-inflammatory products will benefit you in the most enhanced manner. If you want to possess high-graded business profits, then connect with Abiba Pharmacia, the Best Pharma Franchise Company for Anti-Inflammatory Range, and get your hands on the most affordable anti-inflammatory products.
Reach Out to Us!
Name: Abiba Pharmacia
Address: S.C.O – 3 & 4, Behind PGIMER, Vikas Nagar, Nayagaon, Chandigarh, Punjab 160103
Phone: +91- 8699402121
Email: sales@abibapharmacia.com