Pharma Franchise for Cough and Cold Medicine – Every year, agencies record millions of cases of cough and cold. On average, an adult has 2-3 colds per year, and a child may have even more. Most people catch a cold during winter and spring. However, it is possible to get a cold any time of the year. Generally, folks use over-the-counter drugs to relieve these symptoms. It results in an increased demand for cough and cold medicines. Increased demand means more sales and handsome profit. You can also earn profits by taking Pharma Franchise for Cough and Cold Medicine.

Here the question arises, which is the best pharmaceutical company in India to take a pharma franchise from? Abiba Pharmacia is an ISO 9001:2008 certified pharma company that manufactures, supplies, and commercializes high-end cough and cold medicines. The company holds over 10 years of experience in pharma, so expertly addresses the unmet needs of patients. We have dedicated ourselves to improving living standards and building a happier world by delivering top-notch quality pharma medicines at affordable prices. To do this, we are focusing on our franchise channel and offer Pharma Franchise for Cough and Cold Medicine.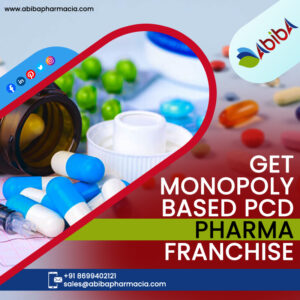 If you want to take the cough and cold medicine franchise from us, call us at +91 8699402121, or you can also drop an email at sales@abibapharmacia.com.
Demand for Cough and Cold Medicine | Scope of Investing
The COVID-19 pandemic has changed the trends and demand for products. Experts say it has a significant impact on the pharma market. Now people are focusing on health than ever before. In brief, the consumption of high-end pharma products and medicines, including cough and cold medicine has been increased. You can set invest in the cough and cold medicine range to earn handsome profits.
Alongside, the government of India is also encouraging newly established firms to make life-saving drugs accessible to the masses. Your success in the pharma business is 100% guaranteed if you associate with the best pharma franchise company in India. So if you are interested in taking the pharma franchise for cough and cold medicines, get in touch with us today!
Top Pharmaceutical Company for Cough and Cold Medicine
Abiba Pharmacia takes great pride in manufacturing high-end cough and cold medicine. It commercializes a comprehensive pharma products range all across the country at affordable prices. The company is backed by dedicated workforce professionals who work round the clock to ensure a flawless delivery of drugs. We are committed to transforming the lives of people living with devastating conditions. The position we are holding is a result of our utmost efforts and hard work!
More Highlights of Abiba Pharmacia:-
Advanced quality testing equipment,
cGMP compliant manufacturing facility,
Team of dedicated workforce professionals,
Obtain raw material from certified vendors,
Installed CCTV camera to monitor the manufacturing, etc.
All the above features of Abiba Pharmacia make it the Best for Pharma Franchise for Cough and Cold Medicine. You can take franchises from us and grow with leaps and bounds. To know more about the company, contact us at the given phone numbers!
Comprehensive Product Range of Abiba Pharmacia | Pipeline
Being a patient-centric pharmaceutical company, Abiba Pharmacia develops and commercializes an extensive pharma product range. Our pharma products are manufactured using biologically active raw ingredients while adhering to environmental protocols, GMP norms, and the latest guidelines. Thus, they get approval from higher authorities like DCGI & FSSAI faster. In addition, our products are well-appreciated by our consumers, clients, and doctors.
Product Range of Abiba Pharmacia:-
Tablets,
Capsules,
Ointment,
Syrups,
Creams, etc.
The pharma products of Abiba Pharmacia appear in various drug dosage forms, including solid, semi-solid, and liquid. If you want to deal with an exceptional pharma product range of cough and cold medicines, then associate with us today!
Benefits of Joining us for Pharma Franchise for Cough and Cold Medicine
Working with a market leader holds numerous advantages. Firstly, you don't have to work hard for customer retention since we have become the most recognized firm. Our products are high-in-demand due to affordability and uniqueness. Along with that, we offer pharma franchises a monopoly basis. It minimizes the competitors for our valued franchise partners. Furthermore, we provide support and assistance to our valued franchise associates for early success.
Advantages of Choosing us:-
Exclusive Monopoly Rights,
High-end pharma products,
On-time delivery of products,
Year Around stock availability,
24*7 customer support, etc.
Apart from these, our cough and cold medicines come in appealing packaging that will help you impress the doctors, clients, and consumers at the first glance. If you want to take Pharma Franchise for Cough and Cold Medicine, you won't find anyone better than us. So what are you waiting for? Associate with Abiba Pharma today. Contact us using the below-listed contact methods!
Reach out to us!
Name: Abiba Pharmacia
Address: S.C.O – 3 & 4, Behind PGIMER, Vikas Nagar, Nayagaon, Chandigarh, Punjab 160103
Phone: +91- 8699402121
Email: sales@abibapharmacia.com.