PCD Pharma Franchise in Tripura – Abiba Pharmacia is one of the fasted growing ISO 9001:2008 certified pharmaceutical companies. We are known for our quality standardized products and pharma franchise business services across Tripura. The company is manufacturing and delivering excellent quality products that meet Global Quality Standards and are available at budget-friendly rates. The best part about the Top PCD Pharma Franchise Company in Tripura is that we offer business opportunities in all locations of Tripura such as Agartala, Dhalai, Sabroom, West Tripura, Udaipur, Belona, Gomati, Trliamura, etc.
We are on a mission to come up with a flawless range of products and make them available across the Tripura state. Since the start, our experts are working in the direction to completely transform the healthcare industry and bridge the gap between unmet necessities of the customers and high-quality products. As the Best PCD Pharma Franchise in Tripura, Abiba Pharmacia owns state-of-the-art infrastructure with GMP-WHO-approved manufacturing units. Plus we also offer unique monopoly rights, free promotional assistance, higher profitability share, genuine returns, and many more other benefits.
Come and fulfill your dreams by working with us. If you are interested to grab irresistible deals, then call us now at 91 8699402121, or you can also drop an e-mail at sales@abibapharmacia.com.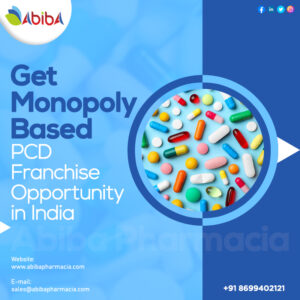 Mighty Scope of PCD Pharma Franchise Business in Tripura
Bordered with Bangladesh and home to diverse tribal culture, Tripura is one of the biggest north-eastern states of India. Home of more than 42 lakh people and rich with natural resources, Tripura offers might scope for the franchise business. As per the economic reports, the per capita NSDP of this state has been inclined at an astonishing rate of 7.17%. High growth opportunities, more demand for pharma medicines, easily available resources, etc. are the traits that define the Tripura market. If you are planning to start your own business and wanted to invest in the Best PCD Pharma Franchise Company in Tripura, then choose Abiba Pharmacia.
Here are the things that make investing in Tripura worthwhile:
The never-ending demand for pharma medicines.
Growing economy and high per capita income of people.
The collective support of the State and Indian Government to promote the pharma sector.
Superb transportation arrangements.
Splendid Quality Pharma Range Available for Distribution
Abiba Pharmacia is the home for getting enhanced quality products. We have pleasant arrangements that allow us to fabricate quality assured pharma medicines. Our entire product range is well researched, perfectly composed, and possesses the best shelf-life. We have hired a team of the country's best pharma experts and practitioners who design & formulate our products. Further, we make sure to duly test our products through rigorous screening & assessment. Below is the pharma range that is available for PCD Pharma Franchise in Tripura:
Gastro Range
Antioxidants & Multivitamins
Dental Range
Ayurvedic Range
Steroids
Anti Amnesic Drugs
Pediatrics Range
Drugs for Cough & Cold
Gynecology Range
Veterinary
Orthopedic Range
Pain Management Drugs
Connect with the Leading PCD Pharma Franchise Company in Tripura – Abiba Pharmacia
Abiba Pharmacia is the first name that pop-up in mind when we talk about transparency and professionalism. We are the ultimate destination for getting quality products and reliable franchise services. The company has created goodwill of being an excellent source of secured and value for money products. We have a significant presence across the nation. Here are the highlights of Abiba Pharmacia:
All the products will be manufactured using 100% quality raw material.
We conduct manufacturing practices under excise-free zones.
You will get on-time delivery of consignments.
The company assures full quality assurance and testing of products.
We make sure to regularly update our product portfolio with newer and innovative products.
These are some of the exclusive things that make sue the Top PCD Pharma Franchise in Tripura. If you find this information interesting and you want to get the full worth of your money, then immediately get in touch with Abiba Pharmacia.
Impressive Collection of Promotional Tools Delivered to the Franchise Holders
We are a client-centric company that adheres to make sure to support its associates in every possible manner. To help our associated with promotional activities, we "the Leading PCD Pharma Franchise Company in Tripura" have come up with a reliable and impressive set of promotional tools. These are:
MR Bags
Notepads
Chemist Order Book
Reminder Cards
Hoardings
Diaries
Pens Set
Gifts for Doctors
Why to Start Business with Abiba Pharmacia?
Abiba Pharmacia is the one-stop solution for getting yourself high demanded pharma solutions and profitable franchise business opportunities. We are a company that owns all the tools, resources, and literature needed to start, conduct & expand business in Tripura. The company is well-versed with the working mechanism of this industry and provides useful services. By working with the Best PCD Pharma Franchise Company in Tripura, you will get the following benefits:
Monopoly rights.
Assured quality products.
On-time shipment of products.
24/7 customer support.
Year-round stock availability.
Contact Us
Name: Abiba Pharmacia
Address: S.C.O – 3 & 4, Behind PGIMER, Vikas Nagar, Nayagaon, Chandigarh, Punjab 160103
Phone: +91- 8699402121
Email: sales@abibapharmacia.com.