Top PCD Pharma Franchise Company in West Bengal – Are you planning to start your own business? Do you want to work with the best company in this business? If yes, then Abiba Pharmacia welcomes you all. We are a well-established corporate structure that follows a systematic hierarchy to bring out high-quality lifesaving medical therapies. We are pleased to announce that the company has gained the spot of Top PCD Pharma Franchise Company in West Bengal due to its proper business code of conduct, quality products, and monopoly based franchise business opportunities in locations such as Kolkata, Asansol, Durgapur, Siliguri, Habra, Kharagpur, etc. The company is open to all pharma experts, retailers, medical representatives, and interested business seekers. If you are serious about your growth and future, then give us a call right now.
Abiba Pharmacia is an ISO 9001:2008 certified company that is accredited with GMP and WHO certifications as well. The company is the home for constant growth, better business opportunities, and top-quality products. Multiple earning opportunities and much more. Our products are legally approved and come in the form of tablets, Injections, Capsules, Syrups, Ointments, etc. Regarded as the Top PCD Pharma Franchise Company in West Bengal, we are wholeheartedly devoted to bringing out lab-tested and quality-assured medications. Furthermore, the company is looking for some devoted and hardworking individuals who wanted to start their own business. If you truly believe you have the conviction and dedication to achieve your goals, then working with Abiba Pharmacia will be the business decision.
For more information, call us at 91 8699402121, or you can also drop an e-mail at sales@abibapharmacia.com.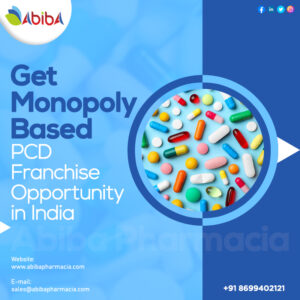 Locations  for Monopoly Based Top PCD Pharma Franchise Company in West Bengal
Abiba Pharmacia is a fully functional pharmaceutical company that is famous among the pharma fraternity because of its high-quality products and fair dealings across PAN Nation. The company is aiming to completely transform the way people see healthcare treatment in India. After spreading its roots across the Nation, this time Abiba Pharmacia, the Top PCD Pharma Franchise Company in West Bengal is offering monopoly-based business opportunities in the state. Here are the locations where we are offering business opportunities:
Murshidabad
Hooghly
East Midnapore
West Midnapore
Howrah
Jalpaiguri
Bankura
North Dinajpur
Maldah
Alipurduar[a]
Paschim Bardhaman
Birbhum
Birbhum
Darjeeling
Kalimpong[a]
Cooch Behar
Dakshin Dinajpur
Kolkata
Purba Bardhaman
Jhargram
Quality and Affordable Pharma Range Meeting International Quality Standards
Abiba Pharmacia is known for its products and our products are famous for their quality. We are the perfect brand for getting hands on completely safe and quality-assured medicines. Our rich quality assessment, usage of natural raw material, banned free substances, modernized manufacturing tactics, imported machinery, and skilled manpower is what helped the Top PCD Pharma Franchise Company in West Bengal in West Bengal to deliver lifesaving therapies. Further, all these products are available at nominal prices, making it one of the most affordable product ranges across PAN India. Each and every segment offered by Abiba Pharmacia is the best and made with quality-assured raw materials. We assure the quality with the best prices and affordable range. Have a look at the range available at Abiba Pharmacia:
Gastro Range
Ayurvedic Range
Steroids
Antioxidants & Multivitamins
Dental Range
Anti Amnesic Drugs
Gastro Range
Gynecology Range
Veterinary
Pediatrics Range
Orthopedic Range
Drugs for Cough & Cold
Pain Management Drugs
Top PCD Pharma Franchise Company in West Bengal – Abiba Pharmacia
Working with the best brand will always lead to greater business heights and success. Abiba Pharmacia is India's genuine, reliable and trustable pharmaceutical company that has become the first choice for all those individuals who are looking to start their own pharma franchise business. The company believes in meeting the client's and customers' necessities in the most efficient manner. Being the Top PCD Pharma Franchise Company in West Bengal, we make sure systematical working and optimum utilization of resources. Here are the exclusive strengths of Abiba Pharmacia:
A big network of distributors spread across PAN India.
Accredited with ISO, GMP, and WHO certifications.
The company promises 24/7 customer support.
You will get year-round stock availability.
We have self-owned production houses for bringing effective outcomes.
Grab Best Benefits and Start Your Business with Abiba Pharmacia
We are delighted to inform everyone that the best PCD Pharma Franchise Company in West Bengal is offering monopoly-based business opportunities in the state. Enriched with modern business resources, superb transportation, and a home for more than 10 crores people, West Bengal is one of the best places to start a pharma franchise business. Through collective state and Indian government support, this place is slowly transforming into the pharma hub of the nation. If you are interested to start your own franchise business and wanted to grab the best benefits, then start your business with the Top Pharma PCD Franchise Company in West Bengal, Abiba Pharma. Here are the perks of working with us:
Free promotional support.
Timely delivery.
Quality-tested products.
Safest packaging.
Genuine business deals.
For More Information
Name: Abiba Pharmacia
Address: S.C.O – 3 & 4, Behind PGIMER, Vikas Nagar, Nayagaon, Chandigarh, Punjab 160103
Phone: +91- 8699402121
Email: sales@abibapharmacia.com.