Top Pharma Franchise Company in Madhya Pradesh – The decision to start your own business in Madhya Pradesh is a finest way to secure a bright future. If you have decided to step into this business industry, then collaborate with a top-rated company Abiba Pharmacia. We are a company that brings to you more than 200+ high-quality products that belong to various therapeutic segments such as Derma, Paediatric, Gastro, Gynae, Orthopaedic, Anti-Cold, etc. Our professional screening, modernized business methodologies, wide product range, and clinical testing make us the Best PCD Pharma Franchise Company in Madhya Pradesh.
We are offering tremendous business opportunities to everyone. If you are a pharma professional, wholesaler, medical representative, or business seeker who is looking to set up its business, the do prefer working with the Leading Pharma Franchise Company in Madhya Pradesh. The company is offering business opportunities to all serious prospects in the locations such as Bhopal, Anuppur, Balaghat, Bhind, Damoh, Agar Malwa, Datia, Gwalior, Khargone, Dewas, etc. Attractive promotional tools, fruitful business deals, monopoly rights, and great investment opportunities are waiting for you.
To know more call 91 8699402121, or you can also drop an e-mail at sales@abibapharmacia.com.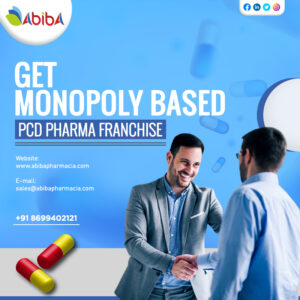 Why Having Pharma Franchise Business in Madhya Pradesh a Worthwhile Decision?
Madhya Pradesh is one of India's biggest states in terms of geographical area and population. Home of 86.8 million people and hub of easily available business resources, Madhya Pradesh is one of the best states to start a PCD Pharma Franchise business. The legal support from the state government and suitable markets here clearly signifies the excellent scope of the franchise business. All you have to do is join the Best PCD Pharma Franchise Company in Madhya Pradesh, Abiba Pharmacia and kick start your business. Here are the perks of working here:
High demand for pharma products.
Wider target audience.
Easily accessible locations.
Superb transportation arrangements.
Good healthcare infrastructure.
Start Your Business with the Best Pharma Franchise Company in Madhya Pradesh – Abiba Pharmacia
Abiba Pharmacia is an ISO 9001:2008 pharmaceutical company that has a PAN India presence. The company is a renowned manufacturer, trader, and distributor of top-class pharma products. Abiba Pharmacia is working professionally and setting high benchmarks in the industry through its work ethic, operational methodologies, product quality, and safety. We are assisted by a hardworking team of dedicated pharma experts, R&D scientists, packaging experts, and many more.
These people work in the direction to maintain a better manufacturing pace and also a regular product flow cycle. Additionally, the business opportunities offered by the top PCD Pharma Franchise Company in Madhya Pradesh will help you to start and expand your business with ease. Below are the benefits of choosing us:
We possess the best infrastructural facilities for systematized operations.
Our production houses are instilled with the best machinery and imported devices.
All the products are delivered within the stipulated time frame through a powerful supply chain.
Complete transparency is maintained and ethical business practices are followed at Top PCD Franchise Abiba Pharmacia.
You will get products covered under secured layering and moisture-free packaging.
Our Sublime Product Range Available for PCD Pharma Franchise
With the intent to completely change the way people see healthcare treatment, we have come up with products that meet International Quality Standards. Our products are designed by India's top-most healthcare experts and manufactured under GMP-WHO-approved manufacturing units. These products are considered safe for usage and come in the form of Tablets, Injections, Sachets, Syrups, Capsules, Ointment, etc. Here is the range available at the best PCD Pharma Franchise Company in Madhya Pradesh:
Dental Range
Gastro Range
Steroids
Orthopedic Range
Antioxidants & Multivitamins
Ayurvedic Range
Gastro Range
Veterinary
Drugs for Cough & Cold
Anti Amnesic Drugs
Gynecology Range
Pediatrics Range
Pain Management Drugs
Locations Where We are Offering Pharma Franchise Services in Madhya Pradesh
Your dream to start your own business can be fulfilled with the Leading Pharma Franchise Company in Madhya Pradesh, Abiba Pharmacia. The company is well-versed with the necessities of the clients and the market requirements as well. Considering all factors, the company is offering tremendous business opportunities in the following location in Madhya Pradesh:
Agar Malwa
Datia
Chattarpur
Damoh
Barwani
Balaghat
Bhopal
Sidhi
Harda
Anuppur
Bhind
Khargone
Gwalior
Dhar
Mandsaur
Dewas
Ashoknagar
Burhanpur
Jhabua
Guna
Start Your Business with the Best Company in the Business "Abiba Pharmacia"
We are the final destination for getting high-quality products and fruitful business opportunities at the same time. The company owns everything that is needed to start and expand business in the state. With us, you will get an opportunity to work with professionals. Their industrial experience and expertise will help you to cement your name as the best in the market. Therefore, do contact the Top Pharma Franchise Company in Madhya Pradesh, Abiba Pharmacia, and start your own business.
More Details
Name: Abiba Pharmacia
Address: S.C.O – 3 & 4, Behind PGIMER, Vikas Nagar, Nayagaon, Chandigarh, Punjab 160103
Phone: +91- 8699402121
Email: sales@abibapharmacia.com.