Best Pediatric Syrups in India – A larger portion of India's population covers the population of infants, children, and adolescents up to the age of 18. With the overflowing children population, the child health issues including fever, cough, runny nose, nutritional problems, diarrhea, etc., come along with trouble for the parents. Child health demands special and concerned care and thus, special medicines are formulated for the same in various dosage forms. In this write-up, we have curated a List of Best Pediatric Syrups in India that are trusted by every parent for their child's health.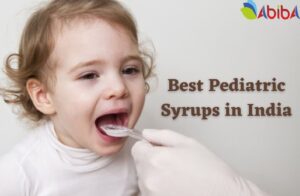 When a kid requires medication, many parents go under pressure knowing that administering too much or too little might result in negative effects. The other question that arises is which medicine is best suitable for the child, without the risk of any negative effects. We know that the precious health of a child cannot be risked. Thus, we have done thorough research and brought together the Best Pediatric Syrups in India. All the medicines that we have rounded up in this list are taken into consideration on the basis of certain factors including their optimum safety, durability, and results.
Composition: Aceclofenac 50mg & Paracetamol 125mg Suspension
The combination of two medications namely Aceclofenac and Paracetamol, ACULUM-P Syrup is used to lower fever or body temperature and decrease pain and inflammation in both infants and children. This syrup reduces the body temperature of the child by inhibiting the chemical messengers in the brain that signal a rise in body temperature. Due to its anti-inflammatory properties, it is considered in the List of Best Pediatric Syrups in India.
Benefits of ACULUM-P Syrup:
Useful in high temperatures in children.
Strengthens the metabolism of the child's body.
Aids in improving bone development.
Composition: Deflazacort 6MG Oral Suspension
Deflazacort is a corticosteroid that is primarily used in the treatment of Duchenne Muscular Dystrophy in newborns and children, a hereditary illness characterized by gradual muscle degeneration and weakness caused by mutations in a protein called dystrophin, which aids in the maintenance of muscle cells. Furthermore, this syrup is helpful in various other conditions including asthma, allergies, joint & muscle diseases, and autoimmune diseases.
Benefits of DOTCOR Syrup:
High anti-inflammatory and immunosuppressive properties.
Provides relief to allergic reactions.
Alters the response of the immune system.
Composition: Paracetamol 250 mg Pediatric Oral Suspension
Comes with an active ingredient of Paracetamol, this pediatric oral suspension is one of the Best Pediatric Syrups in India. It aids in the relief of pain and the reduction of excessive body temperatures, i.e., fever. Giving this oral suspension to the child daily at a fixed time brings excellent conditions like toothache, body ache, common cold, headache, etc. If a child is miserable from fever, Paracetamol contains the capability of making him feel comfortable.
Benefits of DIPTEMP Syrup:
Offers rapid results.
Fights illness.
Lowers the body temperature.
Composition:  Zinc Gluconate with Prebiotic & Probiotic Oral Suspension
Zog Suspension is an active amalgamation of Zinc Gluconate, Prebiotics, and Probiotics that together act as a dietary supplement in children. Zinc Gluconate helps to make cold symptoms including sore throat, cough, sneezing, stuffy nose, and hoarse voice less intense or shorter in duration. Prebiotics and Probiotics in this suspension are also helpful in the absorption of calcium which is essential for children's bone growth, as well as preventing blood sugar surges.
Benefits of ZOG Syrup:
Reduces atopic eczema in healthy children.
Relives diarrhea and constipation.
Soothes the symptoms of Irritable bowel disease.
Composition: Mefenamic 50mg & Paracetamol 125mg Suspension
With a combination of two Non-Steroidal Anti-Inflammatory Drugs (NSAIDs) namely Mefenamic and Paracetamol, this suspension is considered in the List of Best Pediatric Syrups in India. This suspension helps to reduce body temperature (fever) as well as discomfort and inflammation in infants and toddlers. Moreover, it delivers important nourishment to children and aid in their healthy growth.
Benefits of FEPNAC-P Syrup:
Fights muscle weakness.
Reduces redness and swelling.
Removes the illness.
Composition: Phenylephrine HCL, Paracetamol & Chlorpheniramine Maleate Suspension
Up next, we have a triple synthesis of Phenylephrine Hydrochloride, Paracetamol, and Chlorpheniramine Maleate that works by giving a gentle relief to symptoms of cold, fever, sore throat, muscular pain, headache, and runny nose. It also enhances the immunity of the child and improves his resistance to certain common infections. The analgesic and antihistaminic properties of this suspension make it one of the Best Pediatric Syrups in India.
Benefits of VOCOL Syrup:
Improves the immune system.
Alleviates stuffy and runny nose.
Treats unwanted infections.
The above are the "Best Pediatric Syrups in India" that are pediatrically tested and offers great benefit to the child. These suspensions are known for their free of side effects nature and their effective results. In order to grab the top-quality pediatric syrups at the best prices, make contact with the Best PCD Pharma Company for Pediatric Range, Abiba Pharmacia.