List of Best Gastric Medicine in India – According to the results of the large-scale survey, it has been reported that about 60% of people in India suffer from stomach-related woes. Tummy Pain, Recurrent Upset Stomach, Indigestion, Stomach Bloating, Abdominal Pain, Ulcers, etc., are among the most common Gastric discomforts that people deal with in their usual life. To help people in keeping such discomforting gastric issues at bay and keeping their gut health happy, we have rounded up the Best Gastric Medicine in India in this blog.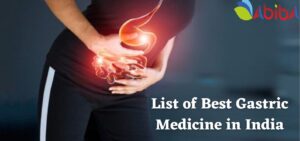 When the stomach membrane layer gets disrupted, it results in acid secretion. These acids come into touch with the stomach walls and cause gastric pain and discomfort. Gastric Medicines perform their function usually by neutralizing and balancing this acid in the stomach that gives a call to various gastrointestinal problems. If you wish to get a permanent solution for your gastric health, then refer to the List of Best Gastric Medicine in India down below that is brought forth after the approval of worldly-known doctors and health professionals.
List of India's Best Gastric Medicine
These Gastric Problem medicines are listed as per their demand in the market, effectiveness, and preference of doctors. Do not self-medicate. Always contact and take recommendations from your doctor before taking any medicine. At Abiba Pharmacia you can also get some of these medications for business purposes. These gastric medicines come with quality packaging. Visit the links of products to get more details about particular gastric medicine.
So without any further a due here is the list of top gastric medicine in India:

Composition: Esomeprazole Magnesium & Domperidone (SR) Capsules
With a composition of two medications, namely Esomeprazole and Domperidone, EPIGASTRO-DSR Capsules are considered primarily in the List of Best Gastric Medicine in India. This combination medicine is the first-line medicinal therapy for Gastroesophageal Reflux Disease (GERD) and the associated symptoms of heartburn and acidity.
Benefits of EPIGASTRO-DSR Capsules:
Treats Zollinger-Ellison Syndrome.
Eradicates Helicobacter Pylori Injection.
Treats Epigastric pain and peptic ulcers.
Composition: Magaldrate and Simethicone Oral Suspension (Mango Flavor)
With a fresh touch of Mango, this syrup is formulated with a synthesis of two medicines; Magaldrate and Simethicone. This suspension mainly provides relief from heartburn, acidity, and stomach ulcers. Magaldrate in this medicine is an inorganic salt that helps in balancing the stomach acid. Whereas, Simethicone is an antifoaming agent that breaks down gas bubbles and allows them to pass through more easily.
Benefits of STRO-MS Suspension:
Relieves sour stomach and upset stomach.
Great choice for acidity and bloating.
Provides relief to heartburn and acid indigestion.
Composition: Pantoprazole 40 Mg Tablets
This tablet contains an active Proton Pump Inhibitor called Pantoprazole which is considered one of the Best Gastric Medicine in India. It works best to treat Gastroesophageal Reflux Disease (GERD), acid reflux, and heartburn. It works by reducing the amount of acid produced by your stomach These tablets aid in the healing of acid damage to the stomach and esophagus and also in the prevention of ulcers and esophageal cancer.
Benefits of ABIPAN-40 Tablets:
Treats and prevents stomach ulcers.
Relieves persistent cough.
Prevents further damage to the esophagus.
Composition: Rabeprazole Sodium for Injection 20 mg
ABIRAB Injection is used to treat stomach and duodenal ulcers, Gastroesophageal Reflux Disease (GERD), and Zollinger-Ellison Syndrome, which are caused by too much acid being produced in the stomach. The last step of acid secretion in the stomach is disrupted by this injection and as a result, the stomach acid and ulcer healing are reduced and accelerated respectively.
Benefits of ABIBRAB Injection:
Relieves indigestion.
Treats Peptic Ulcer Disease.
Provides quick relief from acidity-related issues.
Composition: Alumina, Magnesia & Simethicone Oral Suspension
Next on the List of Best Gastric Medicine in India, we have a mint-flavored STRO-MPS Suspension. The symptoms of excessive stomach acid including stomach distress, heart, and acid indigestion are effectively treated with this suspension. Using this syrup on a regular basis can also help in the conditions of belching and bloating. Moreover, it is also used to treat symptoms of excess gas in the stomach and intestines.
Benefits of STRO-MPS Suspension:
Relieves gut pressure and discomfort.
Lowers acid production.
Excellent for Gut health.
Composition: Ursodeoxycholic Acid Tablets
These tablets are used to dissolve and prevent the formation of gallstones. URSOBA Tablets are also helpful in treating Primary Biliary Cirrhosis (PBC) and dissolving small to medium-sized radiolucent and cholesterol-rich gallstones in people with a functioning gall bladder. Moreover, this medication also has a positive effect on the liver cells and the immune system, and as a result, improves the functioning of the liver.
Benefits of URSOBA Tablets:
Effectively dissolves the gallstones rich in cholesterol.
Treats Primary Biliary Cirrhosis.
Dissolves certain gallstones.
Composition: Lactulose Solution
Up next we have an effective solution for one of the most common gastric problems; Constipation. This solution contains a synthetic sugar known as Lactulose that is primarily used to treat constipation. In the colon, it is broken down into products that draw water from the body and into the colon. This water works by softening the stool and preventing constipation. This syrup is also used to help people with liver illness by reducing the quantity of ammonia in their blood.
Benefits of SOGUD Syrup:
Eases out constipation.
Treats high ammonia levels in the blood.
Increases the number of bowel movements.
Conclusion
The above-curated List of Best Gastric Medicine in India is brought out after extensive research on their effectiveness and proven results. If you want to grab the best quality gastric medicines at your desired rates, then do not look further and connect with the Best PCD Pharma Franchise Company in India, Abiba Pharmacia.